Until recently
I thought the only slight perk to having to live with my chronic pain and chronic fatigue condition was that occasionally it gives me an excuse to borrow a mobility scooter at a local hypermarket.
The place is vast and when I'm having a fibromyalgia flare-up it's the only way I could cope with an extended shopping session.
I admit I've had some odd looks. My condition is one of those invisible conditions so generally I reckon I just look like a bored mum who fancies a whiz round the aisles on four wheels.
Imagine my surprise when I visited Paphos in Cyprus last year to discover that mobility scooters for young holidaymakers are all the rage!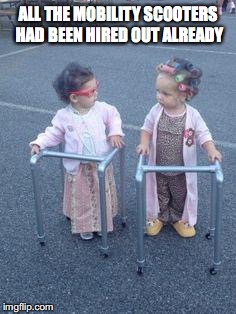 Forget the old favourites of quad bikes, segways and scooters, mobility scooters are THE mode of transport it seems for getting from beach to bar. (Although the T&C's clearly state you can't drive them while under the influence!)
I suppose originally the enterprising hire firms thought that older people with mobility issues would be able to get around without having to fly out their own scooters but the idea has taken off with the younger crowd too!
Some for hire even come with tartan accessories for full-on granny chic! With or without a basket on the front and with slender lines or sturdy off-road style wheels.
Who knows, mobility scooters for young people with and without a physical need for them might catch on here. You can
buy all types of mobility scooters online,
including foldable, compact, road and pavement models.
A guy in my town has pimped his mobility scooter ride with extra mirrors, number suckers and a variety of dangling soft toys so the scope for customisation is obviously endless!
They apparently have quite a good range and you can even organised to have the safety net of specialised roadside assistance so you aren't stranded if you have any issues.
All joking apart these types of scooters can offer vital independence to anyone with permanent or occasional issues with mobility.
If it becomes more acceptable for a wider cross section of the population to be seen riding, those who might have avoided resorting to a scooter and ended up feeling trapped and isolated might be more willing to brave the streets alone on four wheels.
Maybe it's time to bring in a basic driving test for mobility scooter riders to avoid the clipped ankles in the High Street situations I'm sure we've all encountered. These things can move quite quickly and it makes sense to me to ensure that those driving them have good enough eyesight and coordination to manage larger more powerful models.
With fuel prices rising and vehicle emissions restrictions being introduced in more and more places it might not be long before mobility scooters become an affordable and effective way of travelling locally for all. We could see them lined up to charge alongside other electric vehicles in town centre car parks. With some ranges coming with substantial rain covers making them look like mini cars I'm only half joking!
Meanwhile I will hold my head high when I'm on that supermarket loan scooter. I can just tell curious onlookers that it's all the rage in Cyprus.
Disclaimer: Collaborative post.