I'm starting to feel like I am the poster girl
for TENA products. I know I go on about them all the time, I should get myself some sort of Ambassador badge for my sidebar or something, but here's proof that they really are as good as I say they are!
The whole TENA
Lady
Discreet range

-
TENA Lady Discreet Mini, TENA Lady Discreet Mini Plus and TENA Lady Discreet Normal - has
just been named 'Product of the Year' in the Bladder Weakness category for 2018, so you can feel completely secure knowing that you are choosing a product which has been voted the very best by women just like you!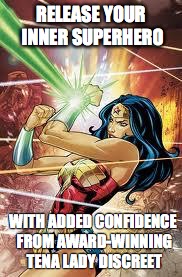 A huge 10,637 consumers voted in this year's Product of the Year innovation survey by TNS, with women praising TENA Lady Discreet for being "slim and discreet" and performing "exactly as promised". Others were impressed with how comfortable the pads were, with another saying the product kept them feeling completely "fresh and confident".
This is all thanks to the introduction of innovative microPROTEX™ compressing technology, which makes each pad 20% thinner, yet just as secure and absorbent as before***.
To achieve this, the technology deeply weaves together a mix of ultra-absorbent materials to provide absorbency where it matters most. Each pad also has a super-discreet fit that follows your every move, so all you feel is comfortable and self-assured.
"Our TENA Lady Discreet pads offer women ultimate discretion and femininity without needing to compromise on security and comfort. We are so pleased that women have agreed and voted them Product of the Year!"

Says Anna McCrory, brand manager for TENA Lady.

"Now women can feel super confident and keep doing all the things they love, safe in the knowledge that TENA Lady has them covered."
All TENA Lady products also offer Triple Protection against leaks, odour and moisture for complete reassurance.
Feeling secure, comfortable and feminine is the key to complete confidence. But if you're one of the 47% of UK women who experience bladder weakness**, worrying about leaks can sometimes leave you feeling a little unsure of yourself.
Well now, thanks to TENA Lady Discreet, you can forget all about your bladder weakness and embrace a confident new you. Why not try them for free? To order a free sample of a product from the TENA Lady Discreet range, please visit: www.TENA.co.uk****.
*Winner of 2018 Bladder Weakness Category. 10,637 people surveyed in UK and ROI by TNS
**TENA Lady survey of 1,000 women in the UK, 2017
***vs previous TENA Lady Normal, TENA Lady Mini and TENA Lady Mini Plus products
***T&C apply
Disclaimer: I was not paid to publish this post.