Winter is taking over and the days of lounging around outside in the sunshine are a distant memory. However I quite like dark evenings, a roaring log fire, winter comfort food and, when you've watched everything on Netflix, maybe a board game for entertainment.
This year as my children are all older we are planning a dinner party style Christmas evening meal on December 25 followed by a game or two. I'm a bit bored (board?) of the usuals so was delighted to see this imaginative collection curated by a PR friend who has kindly gifted me two of the games as a thank you for sharing this info.
So - which game would you choose?
Climb aboard the Christmas Express and join this jolly journey through a winter wonderland as you race to be the first to get to the North Pole. The aim of the game is to be the first player to travel along the train track from the Home Station to the North Pole Station. You'll have to avoid the Hustle Bustle, the Reindeer Crossings, the Snow Storms and maybe the naughty elf, but keep an eye out for Santa's sleigh as he could help you on your way. For ages 6+.
Christmas Express Game, £21.46 from Amazon.
Tension Board Game

The Top Ten Naming Game! A riotous race to call out possible solutions to a given subject... but only answers matching the 10 on the card will score! Fast and frustrating but fantastic fun for everyone! Great for involving different generations, this version includes cards that are appropriate for players as young as 8 years old. Can you handle the Tension? 400 topics make this a perfect thinking game for both children and adults. The unique Tension score slider makes marking down the shout-outs so easy. Sounds simple but you have to get the exact 10 on the card.
Tension Board Game, £12 from Tesco.
Family Quiz Night
It's the all-inclusive quiz game that allows everyone to join in the fun! The questions in this family-friendly quiz have been carefully crafted so that both kids and adults can play on a level playing field. Each card contains a multiple-choice question for younger players and a more challenging question for adults. Features an awesome range of fun questions covering eight popular topics and can be played individually or as kids vs adults in teams.
Suits Ages 8+.
Family Quiz Night, £20 from Tesco.
Christmas Games Card Game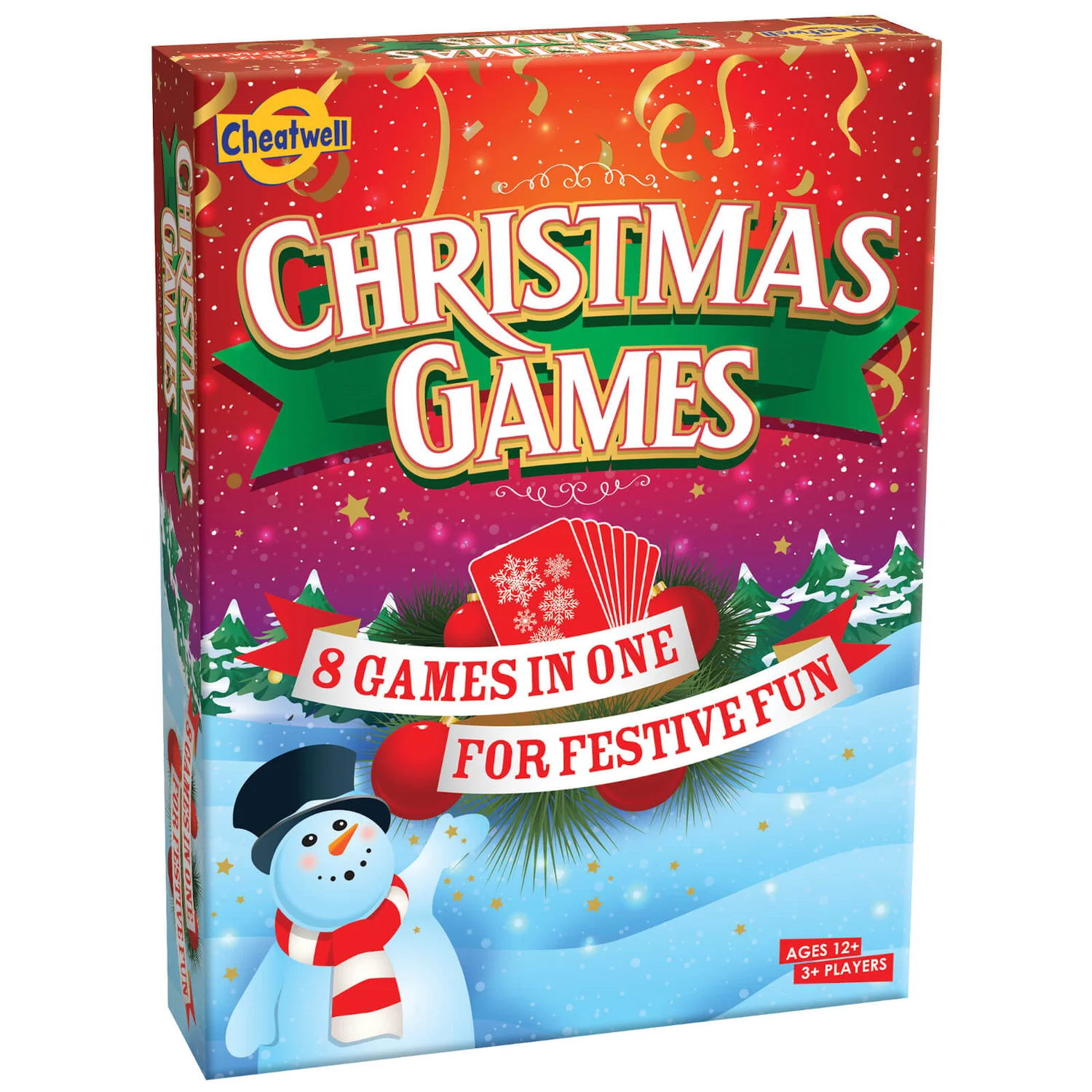 Introduce some fun and chuckles into your Christmas celebrations. With a broad selection of quirky quizzes, cheeky challenges and classic family favourites there's something for everyone. Age 12+
Christmas Games Card Game, £12.95 from Zavvi
Top It
In this edge-of-your-seat party game you race to place your cones on letter discs whilst calling out examples to teasing topics. But beware, any other player can Top It with another answer and place their cone on top of yours! Only the last cone counts and bags all the points! AGE 10+
Top It, £20.80 from Amazon
Brain Ache
Cheatwell Brain Ache picture game, 100% card, Includes: over 350 picture puzzles
Suitable for years 12+
Brain Ache, £22 from Wicked Uncle
Charades Board Game
It's the classic parlour board game packed with instant family fun and entertainment. There are no complicated rules just pick up and start to play. The aim of the game is to move your playing counters across the board from 'start' to 'finish' whilst acting and guessing mimes from the six categories. And with this Tesco exclusive edition you get an extra pack of cards which means an extra 600 mimes for you all to guess. The box contains: Charades Card Decks, Sand Timer, Counters, Playing Board, Rules. Age 12+
Charades Board Game, £20 from Tesco
Nostalgia Game

Take a reminiscent ramble through the most momentous of events of the late 20th Century in Nostalgia - a game of fads, fashion and fun. A memory-jogging jaunt amongst the good, the bad, the funny and, of course, the downright frivolous! From nodding dogs to pogoing Punks, Hammer Horrors, to frightful fashions, historical events to hysterical happenings, you'll face a barrage of questions on the weird, the wonderful and the truly awe-inspiring from the 60s, 70s, 80s and 90s. If you vaguely remember deely-boppers, macram pot-holders or trimphones, it's time to plump up the beanbag, light the lava lamp, crack open a Party Seven and settle down to a recollection of long-forgotten facts! Suitable for ages 14+
Nostalgia Game, £12.99 from The Range
Spot The Intro
The addictive audio quiz game in which teams compete to recognise songs from just 10 second clips! A mix of fun and nostalgia for anyone with a passion for music! Age 14+
Spot The Intro, £19.59 from Amazon
Topix
Played against the clock, it's a race to find as many examples as you can for your given topic; the catch being that all your answers must start with the same letter. Age 12+
Topix, £16.95 From Zavvi