Redecorating the kids' bedroom

isn't the same as redecorating your own. It's like having

the

world's

fussiest clients and the finished products has to be a multi-purpose space which is adaptable as they grow.
It's all very well theming but you will be kicking yourself if you spend a fortune on every

accessory

available featuring their favourite TV character including bed, wallpaper, lampshades, curtains and rugs only to discover three weeks later

they've

moved on to a new fad.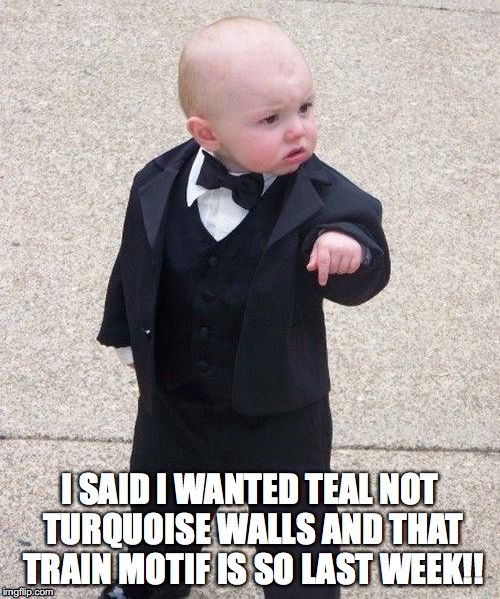 When remodeling consider some of these tips so you will get the job done easily, on budget and in a way the kids are going to approve of the new space.
1. Have them help with the décor and layout. Get your child's input when remodeling the room. Ultimately you will be the decision-maker, but this doesn't mean they can't join in on the fun. They are going to want to engage, and they are actually going to like the finished outcome this way.
2. Have them do some of the 'heavy-lifting.' Okay, not technically lifting heavy items, but doing some of the work. They can help with painting, moving some furniture around or doing other light tasks to help give the bedroom a unique look and feel, which it may have been lacking
3. Choose a general themed-style
rather
than
character
specific. If they like sports, choose a football themed design. Or, if they are into gaming or technology, you can incorporate some fun items around the room, to really give it that distinct look your child will love.
There are many themes you can choose from, so work with your kids to find out what they like. Black and green colours for instance will give a Minecraft feel but without being overwhelmingly Minecraft!
Paw Patrol, The Ninja Turtles and Thomas can have a short shelf span when it comes to kids. No quicker has the paint dried, and they are bored of the latest fad, and on to the next!
4. Where possible try to opt for a decor that can be quite interchangeable. Removable wall decals can be a cost effective and quick way to add characters.
Otherwise choose items that will stand the test of time, a custom neon name sign, basketball hoops, team flags or a world map and hopefully you will get a little more longevity for your money.
5. You can also incorporate their artwork. Paintings, designs or other projects they've done, can be used as décor. It will give the room a unique look and feel, and your child is going to be proud of the space they have created.
If the time has come to
redecorate a child's bedroom
in your home, you need to get your kids on board. When you are ready to start the project, discuss it with them, and consider some of these simple ways to get them involved, when you're ready to redecorate the space.
At the end of the day remember you are in charge and if you don't want black walls or bright pink everything, work out a compromise otherwise you will resent the time money and effort needed to decorate and hate the room every time you enter it!
collaborative post