My husband is very organised.
He keeps a very detailed calendar which not only has the MOT dates listed for our two cars but also our teenaged son's vehicle so that we never forget this vital part of car ownership.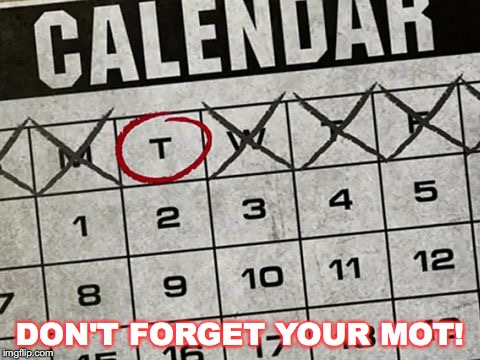 He has his smart phone calendar set to alert him with a reminder a couple of weeks before the MOT is due so we can ensure we have funds available and book our favourite MOT centre in plenty of time.
This way we don't end up having the MOT run out before they can schedule the test which would leave us without transport. Being without cars in a rural village especially when you have as many children as we do is very inconvenient.
The Drivers Vehicle and Standards Agency offer
a free text or email reminder service
which is very useful and could help you avoid a potential £1000 fine which you could be hit with if you forget to MOT your car.
Did you know that without a valid MOT your insurance is almost certainly invalid? And did you know that since 2011 if your MOT runs out your vehicle either has to have tax paid and at least 3rd party insurance or be
registered with the DVLA as being unused with a Statutory Off-Road Notification (SORN) completed. This applies even if it's sitting on your
driveway, on private land or even in your garage.
You can save yourself unnecessary expense at your MOT by doing a simple walk round check of your vehicle before taking it to the MOT centre. You can find a full list of what is checked during an MOT here and it is well worthwhile reading it to give your car or bike a better chance of passing.
Some of the easiest things to check are windscreen wipers, light bulbs (brakes, headlights and indicators) and of course tyres. Many garages will do a pre MOT check for you but it's quite easy to tell if these things are broken or worn.
There is of course the famous 20 pence test for tread. If you place a UK 20 pence coin in the tread and you can see any of the border, your tyre is dangerously low on tread and illegal.
Looks also for any bulges or scuffed or worn areas which might indicate an issue with your tyres.. Ideally you should change your tyres for more robust models in the winter, especially if you live in a region which frequently gets ice and snow.
Not sure where best to buy tyres? Why not ask for recommendations from your friends. You could purchase tyres from Fife Autocentre which offers good quality tyres at reasonable prices.
Why not get your car serviced while it's in for MOT? It's much better to be proactive with car care and safety rather than having to deal with emergencies. Usually it works out cheaper and of course is much safer for both driver and passengers if work is done before a situation becomes critical.
For instance replacing tyres before they become completely bald, and brake pads before they start to damage discs could avoid a potentially fatal accident, especially in winter weather conditions.
A service and MOT will identify not only problems with your vehicle now but also, a good mechanic will be able to tell you about potential issues coming up and usually how long you have to get it sorted and how much it will cost allowing you to budget more efficiently.
Your vehicle is a vital part of your daily life- look after it and it will make your life easier, safer and cheaper.