Imagine
how busy our bathroom gets. With a larger than average family and a smaller than average bathroom it takes some careful scheduling to get everyone clean so we are very reliant on our shower.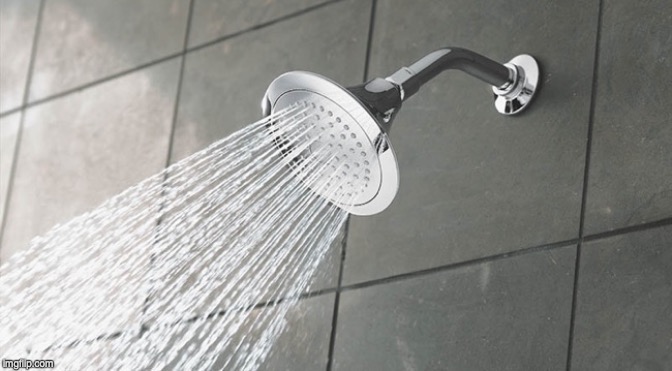 We sensibly picked one which heats the water as it goes - one running off the hot tank would be fine for the first couple of people but after that? Brrrrr.
It doesn't help that my husband likes a loooong shower while he sings along to Muse. I suppose that's balanced by my youngest who spends as little time under the water as possible.
He reminds me of myself back in my secondary school days when after P.E. we had to retreat to the changing rooms, strip off our kit, warp yourself in a towel and head to the showers. No nice cubicles for us. We had to line up and then run past a brick wall fitted with about six shower heads spraying freezing cold water.
You were supposed to hand your towel in at one end and retrieve it at the other. If the girl at the entry point liked you, you could often keep your towel and your dignity and emerge slightly damp and marginally warmer than if you'd run without your towel. You did however have to walk round for the rest of the day carrying a soggy towel.
Nowadays a shower can be so much more than a simple shower-head with adjustable flow. Have you seen those amazing models with built in TV or
bluetooth speakers
? Changing lights and full body length spray?
Take it one step further and you can treat yourself to a
steam shower
which allows you to relax in luxurious spa style in the privacy of your own home. You can combine steam with relaxing massaging jets and an overhead rain shower, calming mood lighting and music and you can even add aromatherapy scents to ensure you get the full VIP treatment.
Did you know that a steam shower can use less water than a regular shower and can help circulation, clear congestion (great if you have allergies) and provide the perfect warm down after exercise. It's well known that steam is great for opening the pores to give your skin a real deep clean and this effect also makes a steam shower the perfect pre-shave treatment.
Unlike a sauna or steam room a steam shower takes up much less space and generally the steam is produced almost instantly so you don't have to wait for it to warm up which should save on fuel costs.
When it comes to relaxation a steam shower beats my electric wall-mounted shower surrounded by a slightly mouldy shower curtain hands down. I'm pretty sure it would add value to my home too if we took the plunge and ditched our sad aged bath and shower combo for a modern and elegant steam shower cabinet.
So next time you are thinking about remodelling your tired bathroom, think about fitting a steam shower and have your very own home spa in one compact cabinet.