I'm looking out of the window. Another foggy, dull day. What to do (after home learning) that doesn't involve a screen or going outside into the cold murkiness? How about learning some magic tricks or playing a board game? Here's a selection of some alternatives to the traditionals to liven up your winter days and nights.
We are HUGE fans of The Taskmaster and now you can play The Taskmaster Board Game. Costing £19.99 from John Lewis the game is based on the hit entertainment show hosted by the mountainous Greg Davies and his assistant Little Alex Horne, Taskmaster the Board Game brings the very essence of this peculiarly popular show to the comfort of your own home!
Rubik's Amazing Box of Tricks £24.99 from Marvin's Magic - Amazing Magic Tricks For Kids Marvin's Magic proudly presents an exclusive magic set celebrating the 40th anniversary of the world famous Rubik's Cube! Includes 40 superb tricks ideal for 8 years old +. Rubiks Box of 40 Amazing Magic Tricks including: Instant solve, Mind reading puzzle cube, Jumping cubes and many more.
DesignNest MagnetCubes Rollercoaster Marble Run - Modular Magnetic Building £39.99 from 2Tech.co.uk - Build. Rebuild. Combine - Easily connect multiple structures together. The structure becomes a complex and impressive multi-level design. MagnetCubes gives you far more freedom to build a near infinite variety of miniature roller coasters and structures instantly.
Richard Osman's House of Games Board Game £25 from John Lewis - Based on the hit BBC2 show hosted by Richard Osman, the House of Games board game is the ultimate test of knowledge and skill. Enjoy some of your favourite challenges from the show in the comfort of your home. Team up to tackle some trivia or face off against each other in the iconic Answer Smash. Who will be the House of Games champion in this competitive compendium of games?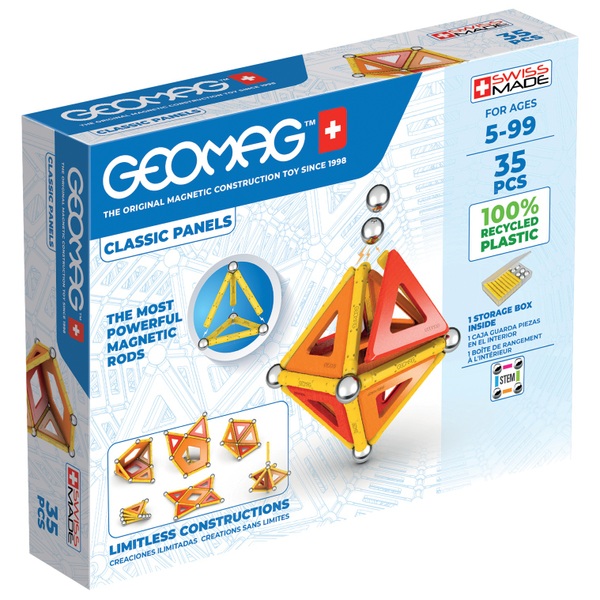 Geomag Classic Panels 35 Pieces. £12.99 from Smyths - Explore the world of the magical invisible forces of magnetism. Create an unlimited number of structures using the magnetic bars and steel spheres Use the 100% recycled plastic panels to make structures more sturdy and stable Great STEM product which is guaranteed to stimulate all levels of scientific insights.
Marvin's Magic Treasured Tricks – Wooden Set £29.99 from Marvin's Magic - Introducing a wonderful wooden magic set that is perfect for any budding magician. Presented in a durable wooden box for easy storage and includes the Incredible escaping coloured blocks, the vanishing rabbit illusion, the amazing rising cards and much much more!