It's that time of year again. Shop displays are filling up with Christmas gonks, fake snow and flashing lights. The children start dropping not so subtle hints about what they would like for Christmas. My own children are mostly older now and the family wish lists feature garden cold frames and snazzy handbags along with the predictable tech stuff.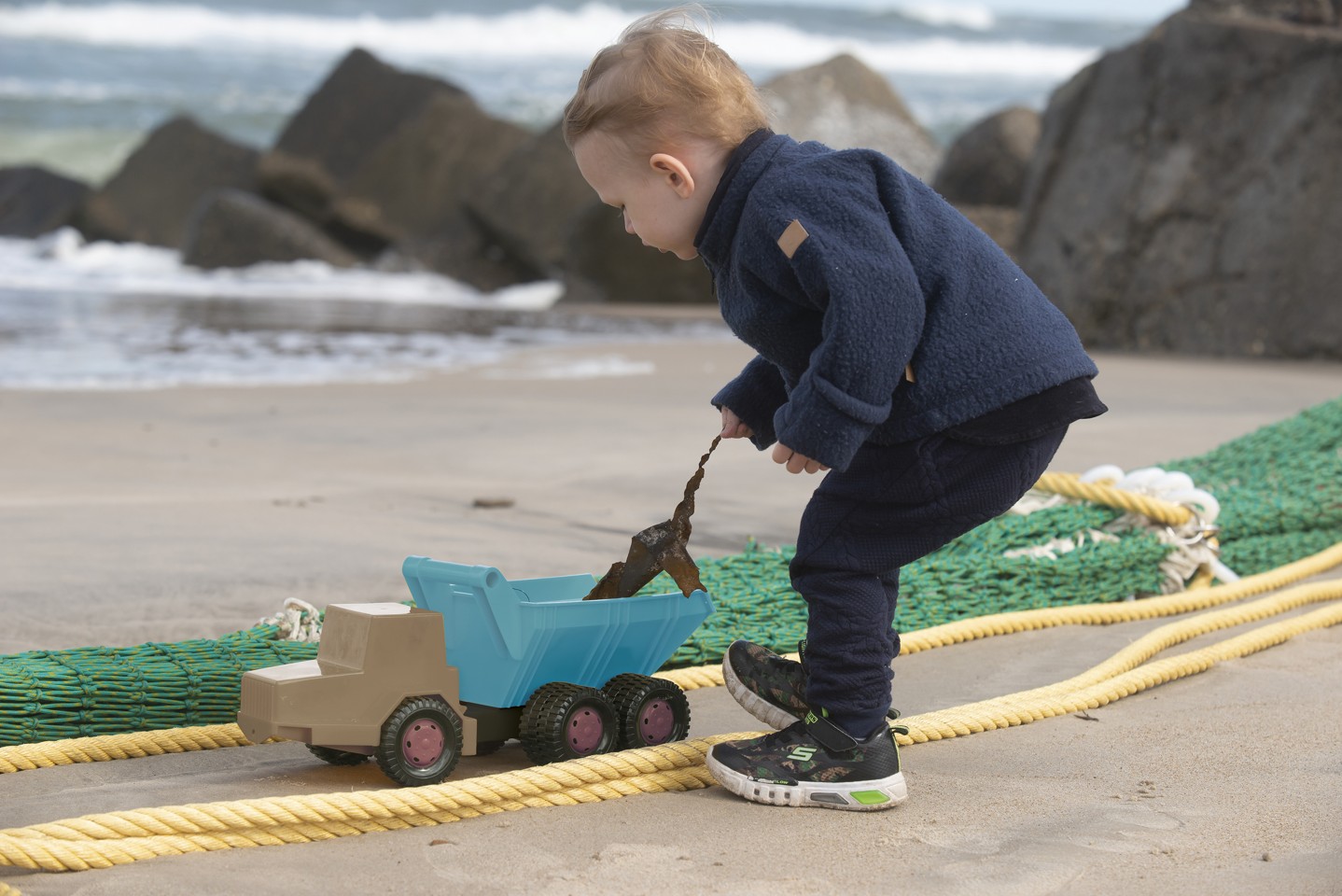 Luckily I now have a grandson I can buy toys for and I cannot wait for Christmas morning (his parents and little B are with us this year) when we will once again be woken up at a ridiculously early hour and he can see what Santa has brought for him. I mean, he's just turned one so he always gets up at a ridiculously early hour and he will have absolutely no idea what is going on but he likes toys so I think he will appreciate the day even if he doesn't understand it.
In the old days I used to feel guilty at the amount of plastic tat which ended up in the toy box after Christmas day but nowadays there are far more eco-friendly toys to choose from like this amazing Blue Marine Big Dump Truck from award winning toy producer dantoy. In fact only recently dantoy won the Danish toy industry sustainability prize and a week later they won the Toy Industry of Europe´s silver award "Play for change sustainability".
The sustainable journey started at the factory in Denmark many years ago, and the Blue marine toy line clearly shows that they want to continue in this direction. It is the third year in a row that dantoy has won the European Toy industries sustainability award. This year the importance of sustainability in children's playing was the focus.dantoy's Blue Marine Toys are water- and sand toys created in neutral colours that lead thoughts to the ocean and recycling.
"We believe that it is essential that the toys signal sustainability and not at least the ocean where the material is collected from. This is especially important because we produce toys for children who are the coming consumers that must learn about the importance of recycling and cleaning the oceans" – Mette Matthiasen, dantoy.
Blue Marine Toys Blue Marine Toys is an exciting range made from maritime gear which has been turned into sand and water toys in nice bright colours. The products are made of plastic from nets, trawls, and ropes from the fishing industry. The range consists of products that can be considered as small parts of a story. Net constructions that are reminiscent of fishing nets, a mill where the sand runs through several processes – mirroring plastic materials being thoroughly sorted, lorries carrying maritime gear, and boats coming from the seas.
Baby B already has a sand play set and I'm told the bucket goes everywhere with him and is sturdy enough to have survived all of the attention my grandson has lavished on it!
Disclaimer: I was gifted the Big Dump Truck as a thank you for sharing this information. Views and opinions remain honest and my own.