The festive season is approaching fast and if you are anything like me there are a few people who can be very difficult to buy for. There are only so many body spray sets you can give someone before they art to get a bit paranoid. Here are a few gift ideas not all just for the kitchen or a cook. Maybe you have an office secret Santa list you need to buy for. I have the water bottle scrubbies (GIFTED) which takes away any concerns that my much used flask is clean.
Anyway, without further ado, here's my list of great gifts for tricky to buy for friends and family.
Thumbs Up Lazy Arm Tablet Holder, £9.99 from Thumbs Up
Here to give you a helping hand - this flexible and functional tablet holder can be clipped onto most surfaces. It's perfect for watching YouTube in bed, video calls, streaming, creating content and watching films. The Lazy Arm is super flexible compatible with all tablets and easy to mount on most surfaces.
Thumbs Up Chickedy Split, £9.99 from Thumbs Up
We have a friend who caused much amusement at a dinner party when he confessed he thought his desert was not as good as it should be as he didn't have an egg separator. First world problems? This would be perfect to add to the collection of separators we have already bought for him.
Split your eggs in no time at all with the Chickedy Split egg separator. Simply crack your egg into the Chickedy Split and pour away while this cute little chick separates the whites from the yolks.
Smoothie Recipe Cup, £10 from Kikkerland
My teens love smoothies - this would make a great stocking filler for the smoothie lover in your life. Recipes for 6 healthy smoothies area printed on the 475 ml cup.
Cat Yoga Fridge Magnets, £13.50 from Oliver Bonas
Add a feline friend to those shopping lists on the fridge with these fridge magnets, featuring five cats stretching into yoga poses. That one on the top left looks a bit like one of my cats - same expression.
Cheese Knives Mice Set Of 3, £32 from Beaumonde
How cute are these 3 Blind Mice Cheese Knives? Made from rubber wood and stainless steel, the cute set of 3 are a lovely addition to the dinner table when serving a cheese board.

Beech Wood + Rockin Guitar Salad Servers, £17.50 from Kikkerland
How many times have you been making a boring dinner and wished that you could take things up a notch? There is nothing more exciting than rock and roll! With the new Beech Wood Rocking Guitar Salad Servers, turn every meal into a mighty concert! Use them to stir your batter or to serve your salad, there isn't anything in the kitchen these hall of fame worthy spoons can't do!
Rockin' Wooden Guitar Tongs, £12.99 from Cotswold Trading
Guitar Servers not making your meal rock n roll enough? Add these Rockin' Wooden Guitar Tongs from Kikkerland to give your serving skills some pep. Perfect present for music students going off to Uni.
Brass Clip Set, £15 from Kikkerland
More attractive than those plastic clips -reduce clutter, keep coffee and snacks fresh.
Bottle Top Herb Planters, £9.99 from Waterstones
Recycling your glass is worthy but why not save a couple and use this kit to grow fresh herbs. Growing herbs was never easier. Set of 3.
Jar & Bottle Opener, £14.99 from Kikkerland
I have Fibromyalgia and have one of these - can't live without it. My younger children also find it handy and don't have to keep asking someone else to open stuff.
A multipurpose kitchen essential, this Kikkerland Jar & Bottle Opener easily opens jars and bottles. It's easy to clean and is safe to go in the dishwasher, so you'll never struggle with opening things again!
Turtle Tofu Press, £30 from Kikkerland
Remove water from tofu with this turtle shaped tofu press! Made from bamboo, which is naturally antibacterial, with a silicone band.Vegans, vegetarians and fleixtarians will all love this cute addition to their kitchen.
Corgi Lovers Pizza Cutter, £10 from Utility Gift
The paw-fect pizza cutter! The Kikkerland Corgi Lover's Pizza Cutter fits easily in your hand and delivers a smooth, rolling cut. This playful dog-themed design is easy to use and small enough to store away easily A great gift for dog and pizza lovers alike - who doesn't love both?!
Cactus Scrub Sponge, £8 from Kikkerland
Make washing up more fun. Comes in a set of 2.
Reusable Ice Sticks, £5 from Utility Gifts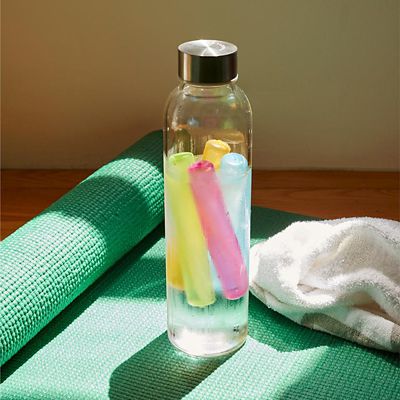 This set of 8 Reusable Ice Sticks from Kikkerland are ideal for keeping your drinks cooler, longer without diluting squash or fruit juices! Available in 4 colours, these narrow ice sticks are designed to fit inside water bottles, reusable beverage containers, insulated lunch bags and more. Filled with pure water and made from durable plastic, they are perfect for reusing day after day.
Bottle Scrubbies, £4.99 from Cotswold Trading
Keep your reusable water bottle squeaky clean with these brilliant Bottle Scrubbies from Kikkerland. Drop these little scrubbers into your bottle with soap and water, shake and watch them scrub away the mess. Sponge contains a ceramic ball insert to tough-clean those hard-to-reach spots. To clean sponges, use warm water and soap and let air dry.